Staff Reporter
— Photo: S.Thanthoni
Students performing at 'Pradarshini 2008' cultural festival of Kilpauk Medical College in Chennai on Wednesday.
CHENNAI: 'Pradarshini 2008,' a four day cultural festival of Kilpauk Medical College, got under way on Wednesday.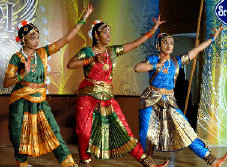 Inaugurating the festival, Health Minister M.R.K.Panneerselvam asked the students and teachers to take a break from their rigorous schedule. Such events were meant for students to go beyond academics and discover other interests, he added. The Minister said the government had set aside Rs.45 crore for improving the infrastructure in medical colleges, including building renovation and expansion works. "In another year all hostel reconstructions would be completed." He told the students that the government was investing in medical education hoping that these students would continue to remain in the State to serve people in the hospitals. The Minister said the government was also planning to upgrade the Chengalpattu Medical College and increase the number of post graduate courses on offer. The Minister's address was followed by an energetic dance performance by women students of KMC.
A student coordinator said the cultural event is expected to attract participants
from 150 colleges across the city.