6th September 2000 - Kilpauk: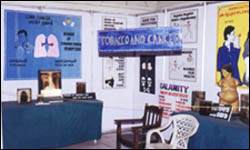 The exhibition was inaugurated by Arcot N Veerasamy, health and electricity minister, Tamil Nadu.
Imagine seeing the human body inside out! This is just one of the few attractions at the
Medi Expo 2000 KMC
, a Mega Medical Exhibition organised by the
Kilpauk Medical College (KMC).
The KMC campus is in a festive mood. This is the first time KMC is organising this exhibition. Medi Expo is considered the biggest such event to take place in the city in the past twenty years. Most exhibits are specimens collected and preserved in the KMC over the years. While the posters and banners could have been better, there are interesting exhibits like the model of a
Futuristic Man
, the
Illizaov Limp Lengthening Equipment,
(which helps add four inches to the height of an individual within twenty days) and the superimposition of the skull in the Forensic Department.
Services offered include:
Free counselling on AIDS
Master Health Check up for Rs 100/-
Dental Check up for school children
Multi media display on issues related to public health
Blood grouping and typing
contents from:
www.chennaibest.com,
www.Pharmabiz.com